Your reliable partner for over 75 years!
The quality of our products
At the international AGRA fair, our products traditionally receive the highest recognitions.
A dairy with tradition
Pomurske mlekarne is a company with a respectful tradition, a successful present and a strong vision for the future. Ever since the company Pomurske mlekarne was established in 1945, we have been well aware that milk is one of the most delicious nature's treasures, which is why we handle it with care and respect.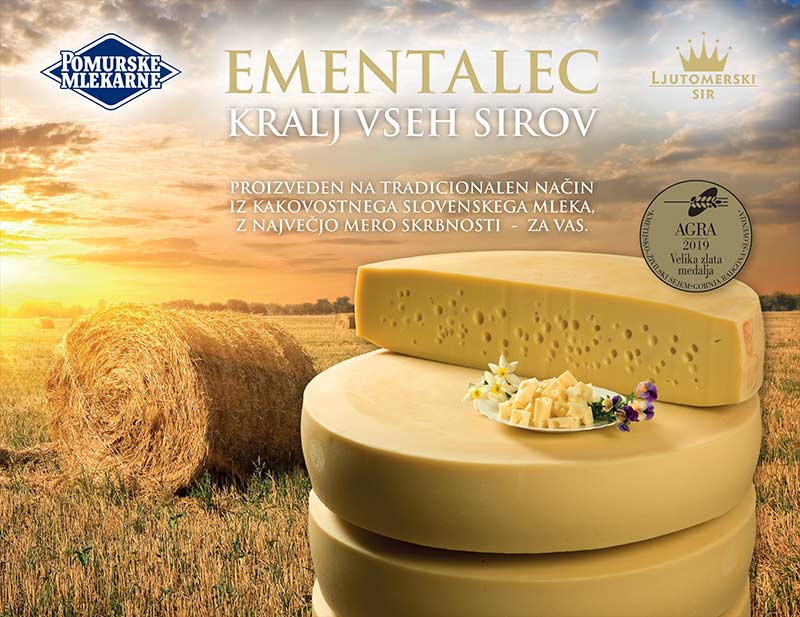 Emmental cheese
Made in classic, traditional way
Emmental cheese is known as the 'king among cheeses' due to its demanding production; and the Ljutomer Emmentaler cheese is not only that but also boasts a long tradition and origin.
It is made in a traditional way with the love of local producers. The Ljutomer Emmentaler cheese is the epitome of traditional production and a healthy diet. Each year it receives the highest ratings for its premium quality at the International Quality Assessment for Milk and Dairy Products held in Gornja Radgona. It has multiple 'champion' titles, the award bestowed on a product that received the highest recognition 3 years in a row.
Emmental cheese has a distinctive sweetish flavour of walnut kernels and goes well with a glass of fine wine; it is also popular with children due to its gentle taste. Emmental cheese is produced from heat-treated cow's milk with an addition of lactic bacteria and propionibacteria. The latter play an important part in developing the holes that give the cheese its typical appearance. It is important to leave the cheese at room temperature for at least half an hour before serving it to develop its characteristic aroma and rich taste.
Pomurske mlekarne is the only Slovenian dairy and one of the few in Europe to produce Emmental cheese in the traditional manner and with great care.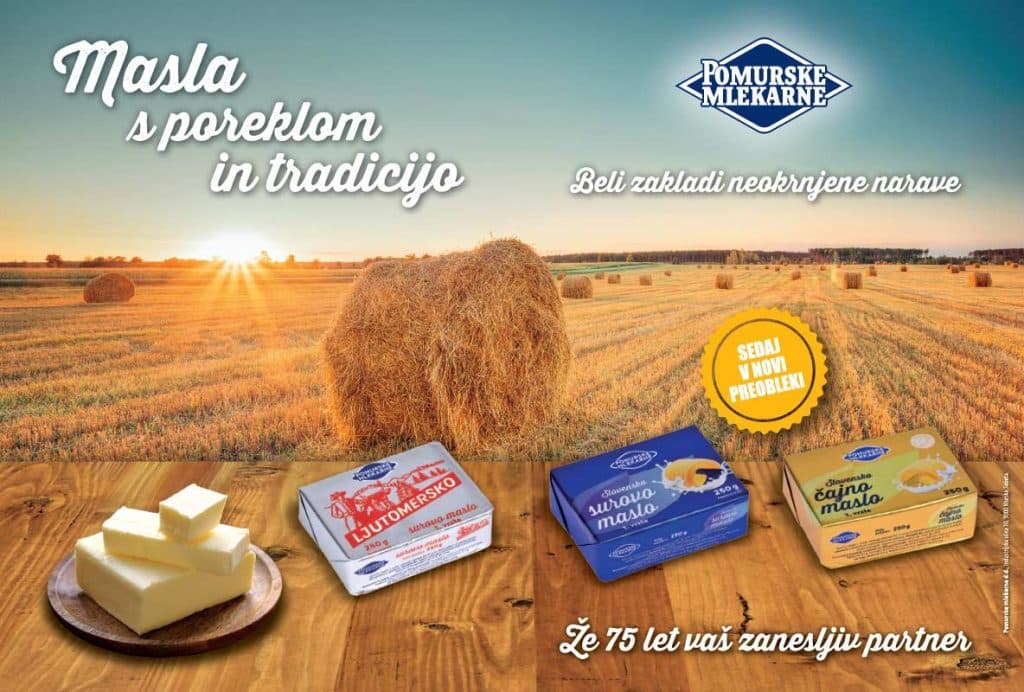 Butter with origin
Butter is a natural food that turns our usual meal into a real culinary experience. It contains many important nutrients that have a beneficial effect on our well-being. It can be used on bread as an addition to desserts and various sauces.